Conversion News & Information
Background
It's been less than a year since Palmetto Trust merged with Self-Help CU on September 1, 2018, becoming Palmetto Trust, A Division of Self-Help CU. The next phase in our integration with Self-Help CU is to convert all of our membership and account service systems to those of Self-Help CU.
Timeline
The upcoming system conversion will run from close of business Thursday, May 30 until the morning of Monday, June 3. Between now and then, you can expect to receive a number of mailings containing important information about the conversion, and this page will be continually updated with information pertaining to those mailings.
Information Mailing #1
System Conversion Booklet (click on the image to view a copy of the booklet). Expect to receive the system conversion booklet on or after Monday, April 15. Contained in the booklet is the following key information:
Contact Information

Key Dates

New Member Number

New Account Numbers

Account Statements

Online Services

Loan Payment Methods

Cards & PINs

Our New Logo

Disclosures

New Products & Services

Comparisons
In addition to the booklet mailing, please be on the lookout for other conversion-related mailings through the end of May. Future mailings will include account disclosures, information about new account logins and your new member number.
Contact Palmetto Trust for answers to questions regarding this system conversion.
Mailing #2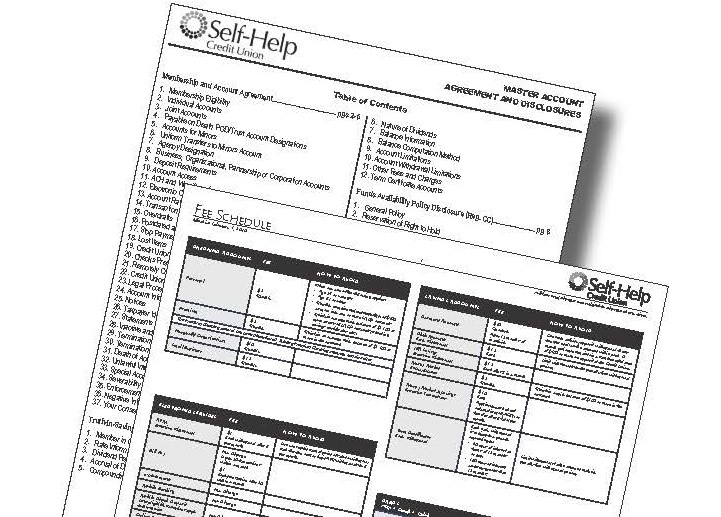 A booklet of Self-Help CU's membership and account disclosures has been mailed to Palmetto Trust members. Also included in the mailing is Self-Help CU's Schedule of Fees. The disclosure booklet contains the following disclosures:
Membership & Account Agreement

Truth-in-Savings Disclosure

Funds Availability Policy Disclosure

Electronic Funds Transfer Agreement
The new account disclosures and fees will take effect on June 1. Go to Self-Help's website to view fees, disclosures, and other forms.